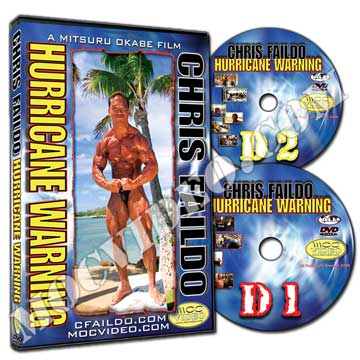 Click [
HERE
] to view a sample clip of this dvd!
Chris Faildo / Hurricane Warning DVD

Approx. 6 hours 20 minutes + 59 minutes extra
Double disc dvd
Released : June 27, 2008

Produced By: Mitsuru Okabe
Replicated and Distributed By: Mocvideo Productions LLC


Filmed October 2nd through 8th, 2008, 3 weeks prior to the Mr. Universe. One of the most successful amateur bodybuilders living in Hawaii known as the "Hawaiian Hurricane"

His daily routine starts at 5 a.m. - breakfast, 12 egg whites and oatmeal mixed with peanut butter. Chris is a personal trainer at Gold's Gym Honolulu and owns the Hurricane Cafe which is located in the gym. Get to know Chris, his dog named Sugar Bear, and his wife Debbie. Lots of nutritional insights, he also shows his secret ginger marinate recipe.

A lifetime drug-free bodybuilder, Chris Faildo shows
you his discipline and dedication for the sport.