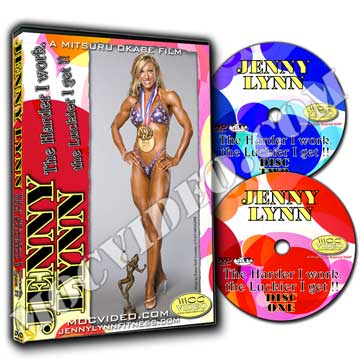 Click [HERE] to view a sample clip of this dvd!
Jenny Lynn The Harder I work, the Luckier I get!! DVD

3 hours 22 minutes / Two disc dvd
Released : March 6th, 2007

Produced By: Mitsuru Okabe
Replicated and Distributed By: Mocvideo Productions LLC


Filmed August 10th, 11th, 12th, 2006, and September 12th, 2006. A Majority of the footage was shot in Walnut Creek, California. This dvd tracks Jenny, 7 weeks out from her competition. See her daily routine which includes: Track field drills, Weight training, deep tissue massage, personal trainer work, and Jenny's Posing Seminer, special leg workout by Charles Glass at Gold's Gym Venice, and more!!

Lots of quality information for figure competitors.