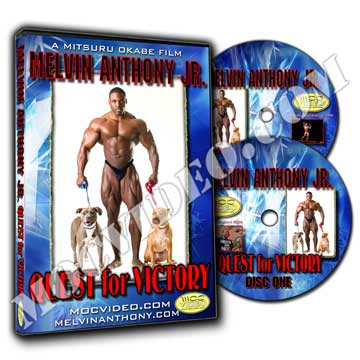 Click [
HERE
] to view a sample clip of this dvd!
Melvin Anthony Jr. / QUEST for VICTORY DVD

254 minutes / 2 disc set dvd
Released : December 05th, 2006

Produced By: Mitsuru Okabe
Replicated and Distributed By: Mocvideo Productions LLC

Top ranking bodybuilder, Melvin Anthony Jr's latest video. Taped 5weeks out of IFBB Arnold Classic contest in 2006. Including his pre-contest workouts. You will see his body change dramatically as he closes in to the contest. Melvin visits music guru Chris Watters in Hollywood to find the perfect music for his posing routine in the 2005 Ironman Invitational.