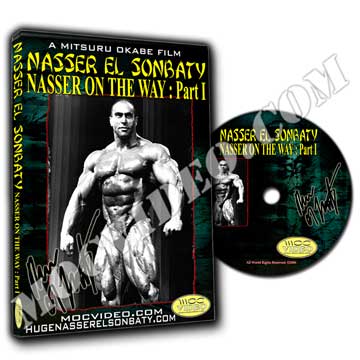 Click [
HERE
] to view a sample clip of this dvd!
Nasser El Sonbaty / Nasser on the Way Pt. 1 DVD

Approx. 90 Minutes / 1 disc dvd
Original VHS Release : Feb, 2000
DVD Re-release : Aug. 30, 2006

Produced By: Mitsuru Okabe
Replicated and Distributed By: Mocvideo Productions LLC

Taped four weeks out of the 1999 IFBB Mr. Olympia contest. This dvd Includes his contest preparation training sessions at Powerhouse Gym in Fountain Valley, California. Nasser covers many topics including : How he trains, how he diets, how he feels...etc. Lots of information for serious bodybuilders.