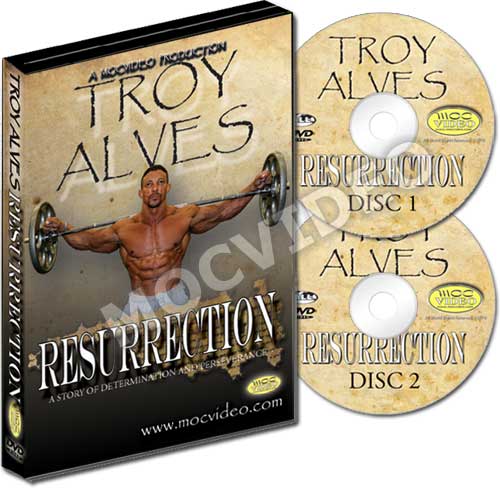 ---
[Watch the official Mocvideo Promo Clip
of Resurrection Below]
Troy Alves Resurrection DVD

Approx. 5 hours 22 minutes / Two disc dvd
Released : December 24th, 2009

Produced By: Bruce and Lee Lester
Replicated and Distributed By: Mocvideo Productions LLC

res·ur·rec·tion: n. 1. The act of rising from the dead or returning to life.

Troy Alves is a man who has, indeed, "come back from the dead." After placing 11th at the Ironman Pro in January 2009, Troy gave himself an ultimatum - win your next show or be done with professional bodybuilding.

Troy was far from done, in fact he was more determined than ever.

After refocusing his mind, team, and spirit, Troy did win his next show - the April 2009 Europa Show of Champions - and qualified for the 2009 Mr. Olympia.

This DVD chronicles Troy's continuing journey as he prepares his classic "X-frame" for his next competitions - the September 2009 Atlantic City Pro and , just two weeks later, the 2009 IFBB Mr. Olympia.

See Troy's workouts, cooking/diet, grocery shopping, family time and various interviews. You'll really get6 to know Troy and what makes an athlete of his caliber tick.

At age 43, Troy is in the best shape of his life and takes the time to share what he has learned. Watch as Troy - a true example of class, dedication, and perseverance - continues his "resurrection" as an IFBB Pro Bodybuilder.