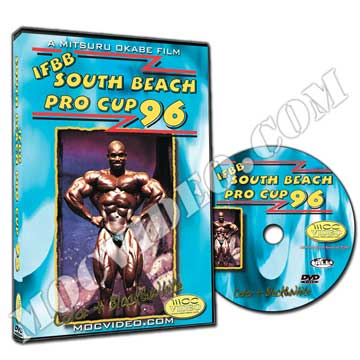 Click [
HERE
] to view a sample clip of this dvd!
IFBB South Beach Pro Cup 1996 DVD

117 minutes / 1-disc dvd
VHS Releas : July, 1996
DVD Re-Release : August 10th, 2007

Produced By: Mitsuru Okabe
Replicated and Distributed By: Mocvideo Productions LLC

This is a contest video of IFBB Florida Pro Invitational in May 1996. Includes all callouts from prejudging, round one and round two and all individual posing routines from the evening show. The whole contest. Also include backstage activities.

Contestants include : Flex Wheeler, Ronnie Coleman, Milos Sarcev, Eddie Robinson, Rich Gaspari, Darrem Charles, Dave Fisher, Jim Mentis, Fauzi Hanst, Sean Paul Jeankins, Derrick Whitsett, shreded Hamdullah Aykutlu, 20 competitors.

Flex Wheeler is the winner, and Ronnie Coleman is second place. Two years before Ronnie got his Olympia crown. You will see Darrem's great posing, widest back in the game = Fauzi, Big Guns of Eddie Robinson, sliced Hamdullah, and more!